DIN 11851 Blank Caps
Deutsches Institut fur Normung (DIN) Fittings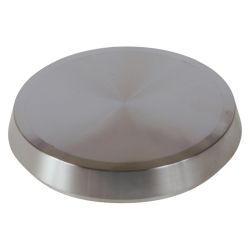 DIN Blank Caps
DIN blank caps function just like Tri Clamp End Caps, but for the DIN standard. They fit into the welding male with a gasket, and have the same bevel as welding liner but are solid. Unlike the welding male or liner, blank caps are not welded and thus do not need an imperial inch-based size. They simply fit into their respective (25mm, 40mm, etc...) metric counterpart. The round nut then presses the blank cap and welding male together compressing the gasket and forming a tight seal.
Notice:
Incorrect sizing is common with DIN 11851 fittings. Please review our DIN 11851 Guide for assistance in sizing your DIN 11851 fitting.
DIN 11851 Blank Cap
Tube OD
DIN Size
A
B
C
D
1"
25
0.51
1.73
0.39
1.38
1 1/2 "
40
0.51
2.20
0.39
1.89
2"
50
0.55
2.68
0.43
2.40
2 1/2 "
65
0.63
3.39
0.47
3.11
3"
80
0.63
3.94
0.47
3.66
4"
100
0.79
4.76
0.59
4.49
Return Policy
Glacier Tanks will accept returns of website standard stocking items, but only if:
The item is new, unused, and in resalable condition;
You notify Glacier Tanks and request a return authorization within 30 days of your receipt of the item;
You return the item to Glacier Tanks, postage/shipping prepaid within 5 days of Glacier Tanks' return authorization (RMA);
Once your items have been received by Glacier Tanks and verified to be unused, we will refund your purchase price, less shipping costs. Returns will incur a 15% restocking fee. Return shipping costs are your responsibility and shall not be paid by Glacier Tanks.
The following items are non-returnable:
Special or Discounted items - labeled by button color:

Discontinued

Damaged

Non-conforming

Refurbished

Special Order

Drop Ship

Build-to-Order

Custom order
All Gaskets & Seals
Please be sure you understand and agree to any drawings supplied to you prior to purchase of custom or special order items. Payment of deposits for custom or special order items indicates your approval and acceptance of such custom or special order items.