Brite Beer Tanks
Commercial Glycol-Jacketed & Non-Jacketed Brite Vessels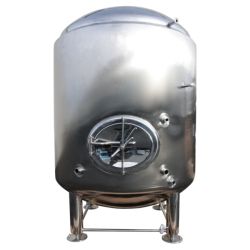 Brite Beer Tanks
A brite beer tank's primary purpose is the maturation of beer, and often doubles as the serving tank itself eliminating the need for maintaining additional beer kegs. A basic holding vessel and more cost effective than its conical fermenter counterpart, brite beer fermentation tanks are often used to chill, carbonate and age the beer into the well-rounded craft beverage it is. This mature, clarified beer known as "brite" beer, is what gives the tank its name.
Modern commercial breweries often utilize single-walled stainless steel brite tanks which can be reused indefinitely, are impregnable to odors and discoloration, and can be sanitized easily. Most brite tanks sit atop legs and utilize gravity as serving vessels. Additionally, brite tanks are often paired with conical fermenters, thus allowing a higher batch turn-over rate in the more expensive fermenter, yielding a cost savings.
Please see Specifications for additional upgrade options and information.