Natural Gas & Propane Jet Burners
Cast Iron Jet Burners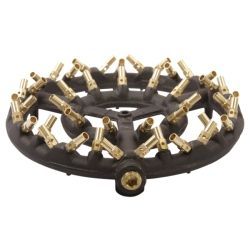 Cast Iron Jet Burners
Cast iron jet burners, fueled by either propane or natural gas, are similar to turkey kettle burners and are typically only used in outdoor brewing as per most municipal codes. Jet burners can not be used in closed firebox and require substantial air intake to function properly. If allowed to be used indoors, a vent hood is usually required. Orifice sizes are #63 for propane, or #54 for natural gas, and burners come with 32, 44, or 88 tips, with each tip producing approximately 10,000 BTUs. All burners are warrantied for 1 year.
Limited Support Notice
Our jet burners are designed as replacement burners for outdoor boil kettles. Due to the wide variance in municipal codes, Glacier Tanks cannot provide installation instructions or recommendations on how to integrate it into your system. These burners carry no certifications (such as UL listing). In certain cases these can be used for other applications however Glacier Tanks is not able to guarantee that. Glacier Tanks does not sell any form of modulation or control devices for them. It is Glacier Tanks recommendation to have all burner related components installed and serviced by gas installation professionals.
Return Policy
Glacier Tanks will accept returns of website standard stocking items, but only if:
The item is new, unused, and in resalable condition;
You notify Glacier Tanks and request a return authorization within 30 days of your receipt of the item;
You return the item to Glacier Tanks, postage/shipping prepaid within 5 days of Glacier Tanks' return authorization (RMA);
Once your items have been received by Glacier Tanks and verified to be unused, we will refund your purchase price, less shipping costs. Returns will incur a 15% restocking fee. Return shipping costs are your responsibility and shall not be paid by Glacier Tanks.
The following items are non-returnable:
Special or Discounted items - labeled by button color:

Discontinued

Damaged

Non-conforming

Refurbished

Special Order

Drop Ship

Build-to-Order

Custom order
All Gaskets & Seals
Please be sure you understand and agree to any drawings supplied to you prior to purchase of custom or special order items. Payment of deposits for custom or special order items indicates your approval and acceptance of such custom or special order items.