Missouri Ridge Distillery & Brewery
Mar 14, 2021 on Google Customer Reviews
Fair prices and fast shipping!!!! What else can you ask for..... Greg Pope Master Distiller

Duane Teach
Oct 12, 2020 on Google Customer Reviews
Great range of products and support of me, the little guy. Highly recommended, and I will look to them for future needs.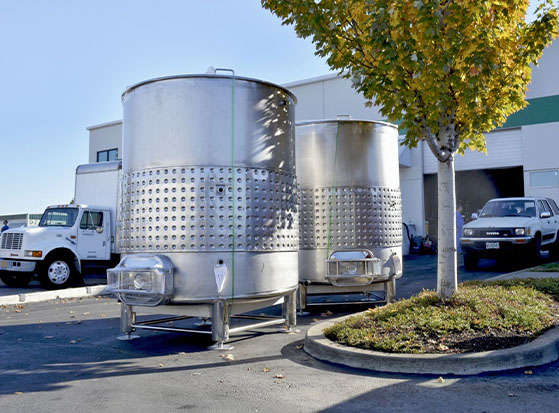 Glacier Tanks started as a small family-owned business in 2006. The Roelle family started with a simple business proposition of selling water tanks.
They found that customers were purchasing their water tanks and modifying them for the purpose of making craft beer. As a result, the family hired talented engineers to design top-quality tanks specifically for the craft beer industry. The family, too, became experts in brewing. They studied overseas and spent significant amounts of time on the factory lines to learn all aspects of tank construction. Over those early years, the mission came into focus of being the 'one-stop shop' for the brewing community. The business has grown over time to offer one of the largest and most diverse sanitary fittings and parts catalog in the market.
Read More >
Commercial Brewing Equipment
The supplies we provide must meet our high standards before they reach your hands due to their significant contribution to your product and business outcomes. Our manufacturing partners work with us to understand our welding process and our commitment to quality.
Our stainless-steel products can be customized or provided as standard to enable you to develop a commercial brewing configuration that suits your requirements and goals.
Glacier Tank's range is extensive. Our key products include the following:
Fermenting tanks are ideal for improving the quality of beer as well as breeding yeast.
We carry non-jacketed and jacketed conical fermenters. They are rated for up to 14.7 PSI and tested at 30 PSI and come standard with 25% head space on top of working volume and a rotating racking arm. All tanks come with a 1-year warranty.
Our tanks are consist of:
Food grade sanitary stainless steel with a 3-4mm thickness
An interior sanitary finish with exterior side walls in a #4 dairy finish.
A dish top with a cylindrical body.
A 60-degree cone bottom.
Tri clamps create a leak-proof seal between two pipes or hoses.
We stock a variety of sizes using stainless steel or other corrosion-resistant materials.
Tri clamp fittings are commonly used in the food and beverage industry for sanitary applications.
Our selection of stainless-steel brewery tanks is extensive and comprehensive.
The range covers:
Brew kettles.
Fermentation.
Brite beer.
Mixing and open top.
Hot liquor.
Popular homebrew.
Our stainless-steel steam jacketed, gas fired, and insulated boil brew kettles are:
Available from 3 barrel to 30+ barrels.
Constructed from food grade stainless steel SS304 with a 3-4 mm thickness
Consist of an interior sanitary finish with exterior side walls in a #4 dairy finish.
All kettles come standard with 50% head space on top of working volume.
JIC fittings are widely used in fluid applications, such as the delivery of fuel or hydraulics, especially when a higher PSI is involved.
The JIC fittings we stock use a 37-degree chamber seating surface to seal rather than an o-ring. This allows them to be connected and disconnected repeatedly, without damage.
We have 37-degree flared adapters, nipples, tees, caps, and reducers.
Our turn-key brewhouse options have a logic-based design with a focus on ergonomics for the brewer.
Please contact us directly to order your turn-key brewhouse.
Mash turns convert starches in crushed grains to sugars for fermenting. The sparging, or lautering, process is performed in the same tank and results in the extraction of the sweet liquid called wort.
We supply steam-jacketed, gas, insulated commercial and industrial stainless steel mash tanks.
Our mash tuns are available up to 30+ barrels, which is suitable for various types of brewers and industries.
We offer a variety of:
Botanical extraction tanks and lids.
Pumps.
Material columns.
Other extractor related fittings.
Our DIN options include:
Blanks caps
Gaskets
Round nuts
Wrenches
Welding liners
Welding males
Tri clamp adapters
Glacier tanks will help you reach your commercial brewing targets.
We are a dedicated and passionate team committed to providing guidance and advice regarding all aspects of the brewing process. Glacier Tanks supply products suitable for your requirements, applications, brewing configuration, and industry.