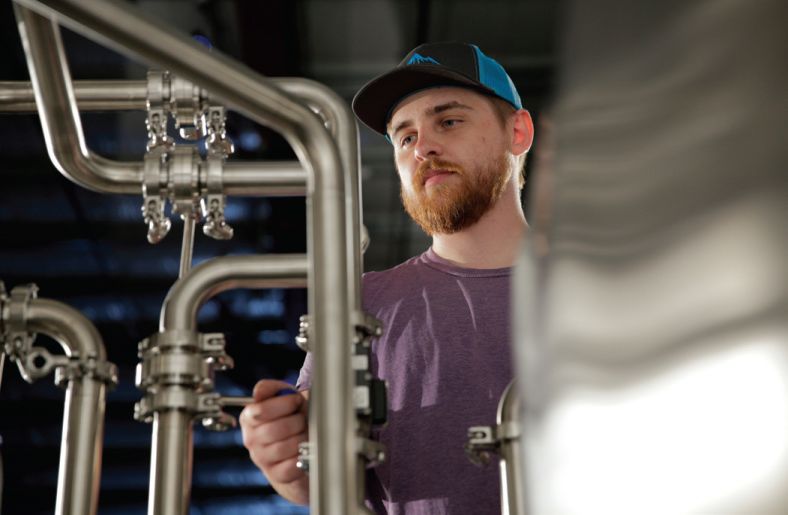 Brewer-Centric Approach
In brewhouse piping design, the spatial arrangement of valves and system components holds significant importance. At Glacier Tanks, we prioritize this aspect in our design process, placing emphasis on the brewer's position during brewing operations and minimizing unnecessary physical strain. We understand that brewers require convenient access to control components while operating the system, with all frequently used valves brough to positions accessible from a relaxed standing position and no valves in hard-to-reach places.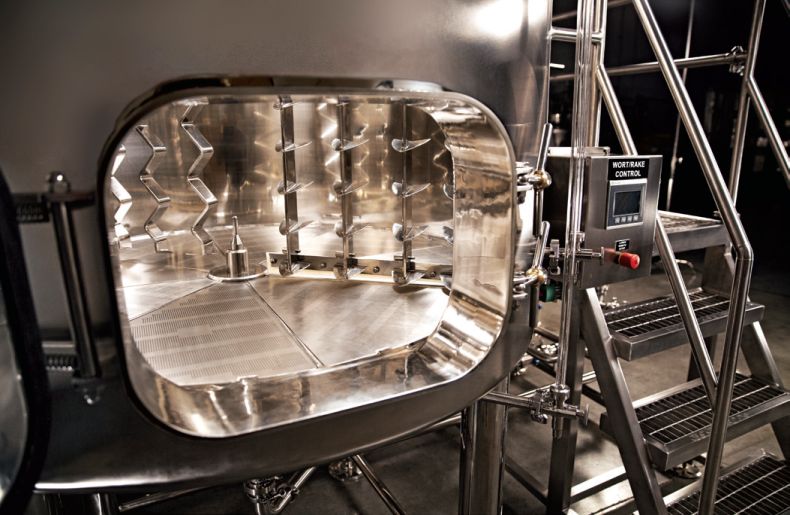 Multi-Level Control
Our brewhouses are designed with careful consideration for convenience and efficiency. To facilitate ease of operation, we have strategically placed control boxes on both the brew deck and at ground level near the grain-out door. Each control box is equipped with emergency stops, ensuring safety at all times, and access to all controls for the entire system. By having control boxes on the brew deck, brewers can effortlessly operate the rakes during the mash-in of a new batch and control brew kettle and pumps from the same panel without the need to leave the deck.
Additionally, the potential of this system would allow for the ground-level control box to provide immediate access to rake controls during grain-out while simultaneously controlling pumps for a knock-out. This thoughtful flexibility in the functionality of the controls streamlines the brewing process, saving time and effort for the brewer.
Brewhouse Size & Power Availability
| | | | |
| --- | --- | --- | --- |
| 3.5 bbl | | | |
| 5 bbl | | | |
| 7 bbl | | | |
| 10 bbl | | | |
| 15 bbl | | | |
| 20 bbl | | | |
Unleash the magic of brewing with Glacier Tanks! Are you ready to elevate your brewing experience?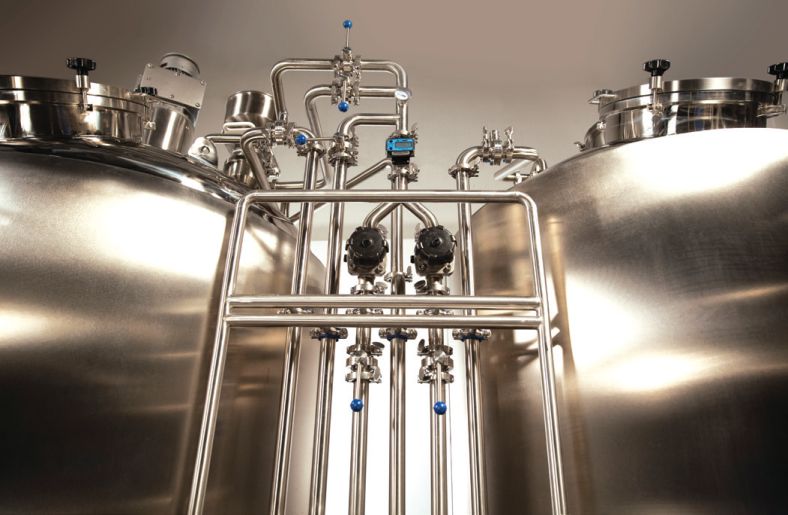 Water Blending Station
As part of our continuous improvements, we have introduced a water blending station on the brew deck, conveniently located within arm's reach of the mash tun. This addition brings unparalleled convenience to the process of adjusting water temperatures during mash-in. Equipped with diaphragm valves, a temperature gauge, and an in-line flow meter with a temperature readout, the water blending station ensures precise control over water temperatures, making the task of dialing-in temperatures an effortless endeavor.
This blended water can then directed to the grist hydrator during mashing in, the sparge ring for a gentle water addition, and/or the under-screen wash to lift the grain bed to reduce compaction or rinse clean between batches. With these advanced features, achieving the perfect water temperature for mash-in becomes a piece of cake.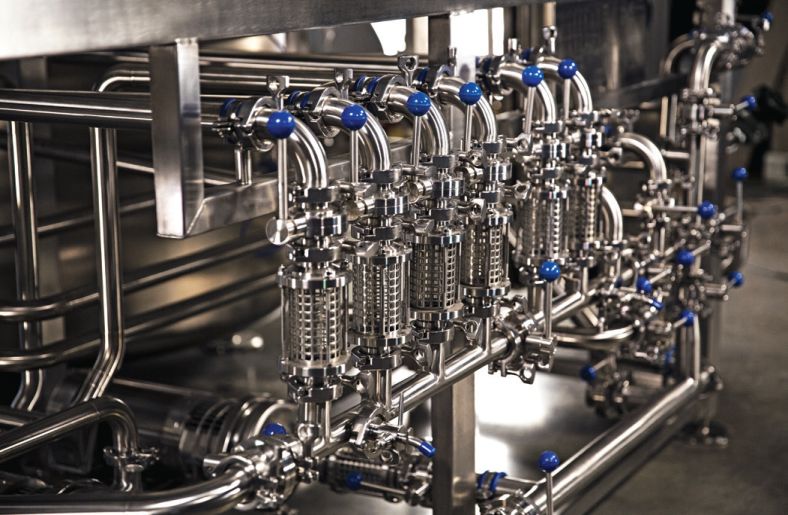 Valve Logic
Valve logic is often underestimated, but we recognize its immense value. At Glacier Tanks, we prioritize the utilization of manifolds and effective valve logic, which eliminates the need for jumper panels to set flow paths. This streamlined approach simplifies the system configuration to only setting valves rather than routing and attaching hoses and pipes. Our commitment to valve logic ensures a seamless and intuitive experience for brewers, allowing them to focus on their craft without unnecessary complications.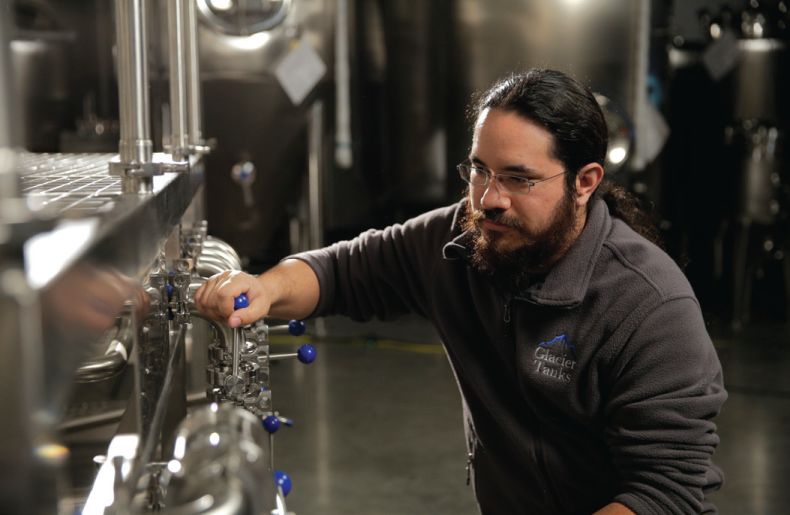 Easy to Follow Controls
Easy to read and nearby, a laser etched panel provides clearly labeled guidance to know where every pipe and valve routes into the system. With our innovative approach, brewers can effortlessly set a flow pathway by following this user-friendly visual guide. By simply opening and closing a couple of valves you can chase a line with hot water, reverse the flow of a clogged plate chiller during knock out, or bypass one of the two pumps for cleaning or maintenance. If you have additional equipment or specialty needs, two auxiliary ports are placed on the front where you can attach sample valves, inline filtration, additional pumps, or routing to other equipment.
Our valve logic not only provides simplicity but also ensures flexibility in directing flow wherever needed.
To support seamless onboarding and training for new brewers as your operations expand, our visual valve guide serves as a permanent resource. It acts as a reliable reference tool, helping trainees navigate the system effectively. As your team grows, this invaluable resource will continue to empower new brewers, allowing them to quickly grasp the system's functionality and maximize their productivity. For maintenance and support needs this guide also lists the tank and model information, electrical requirements for the system, and specification for heating equipment.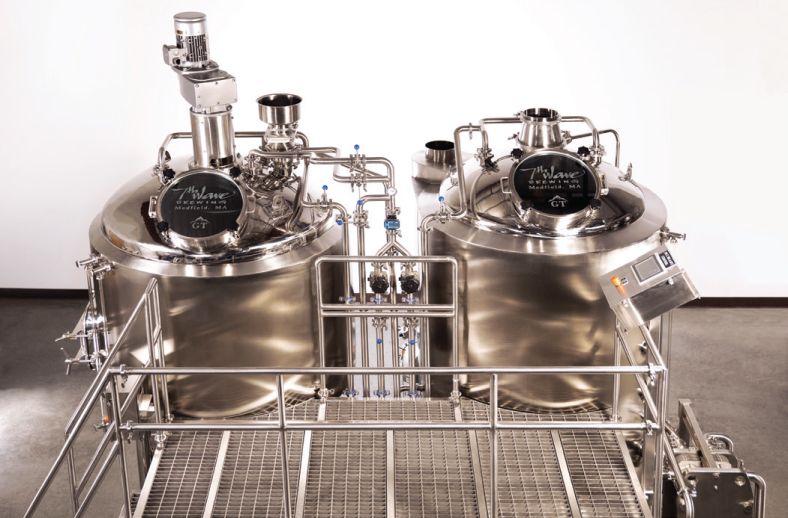 Large Brew Deck
In addition to our focus on thoughtful design, we have implemented practical features on our brew deck. One such feature is the ability to disassemble the railing when necessary, allowing for a larger deck space capable of accommodating pallets. This convenient design element proves invaluable when dealing with significant quantities of adjuncts that require manual addition through the manway. Rather than carrying these adjuncts up and down the stairs, you can simply utilize a forklift to place the pallet directly onto the brew deck. This utilization of economy-of-motion optimizes efficiency, eliminating unnecessary physical exertion and streamlining the brewing process.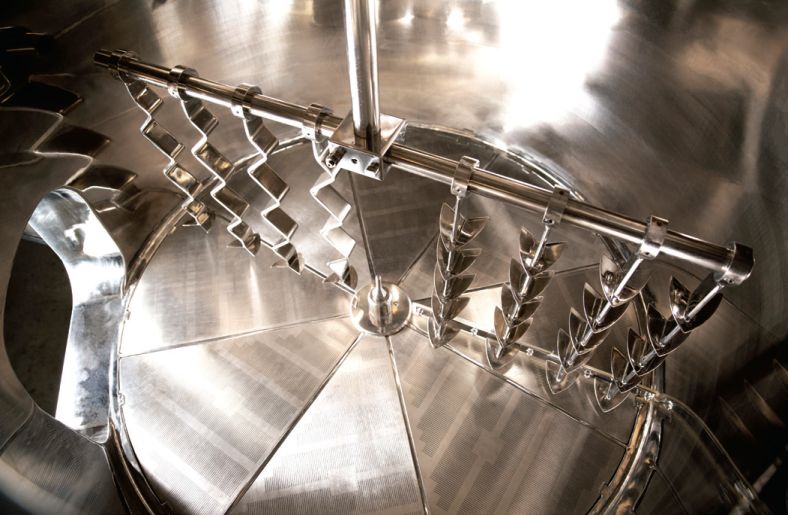 Commercial Mash Tun
In our commitment to enhancing workflow, our commercial mash tuns incorporate thoughtful design elements. Building upon the control advantages we previously mentioned, we have taken into account the height of the mash tun to align perfectly with a range of grain collection containers, including the Probin 24-S. This compatibility ensures seamless transportation of spent grain, conveniently facilitating the use of forklifts or pallet jacks.
By optimizing the alignment between the mash tun and collection containers, we have simplified the process of removing spent grain, allowing for efficient and effortless grain disposal.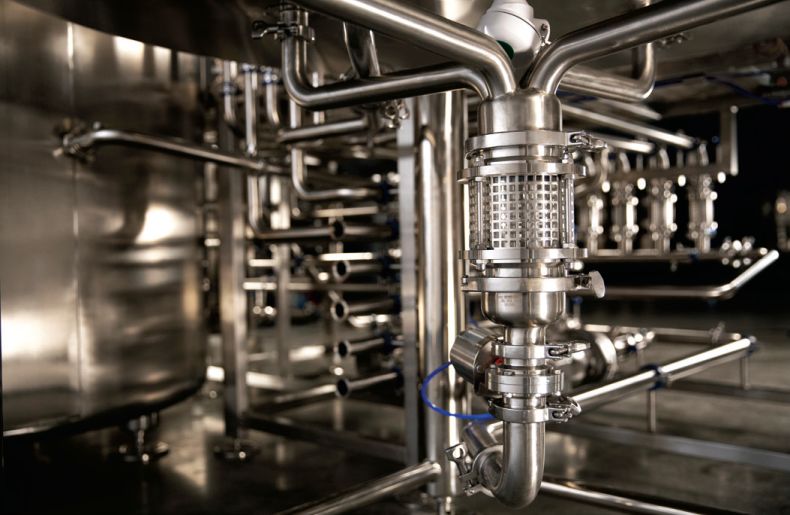 Consistent Sparge
To support brewers in achieving a consistent sparge, we have implemented a multi-port drain system beneath the mash tun for maintaining an even grain bed, complemented by an oversized inline sight glass known as the "mini-grant." This 4" sight glass serves as a reliable indicator for drain velocity, providing valuable insights into the flow rate. This combination of features plays a crucial role in maintaining sparge consistency. With the inclusion of these visual indicators, brewers can easily assess important information at a glance.
By incorporating these visual indicators and leveraging the functionality of the multi-port drain system, we empower brewers with real-time feedback and the ability to make informed adjustments as needed. This attention to detail ensures a consistent sparge process, allowing brewers to achieve optimal results and maintain high-quality brewing standards.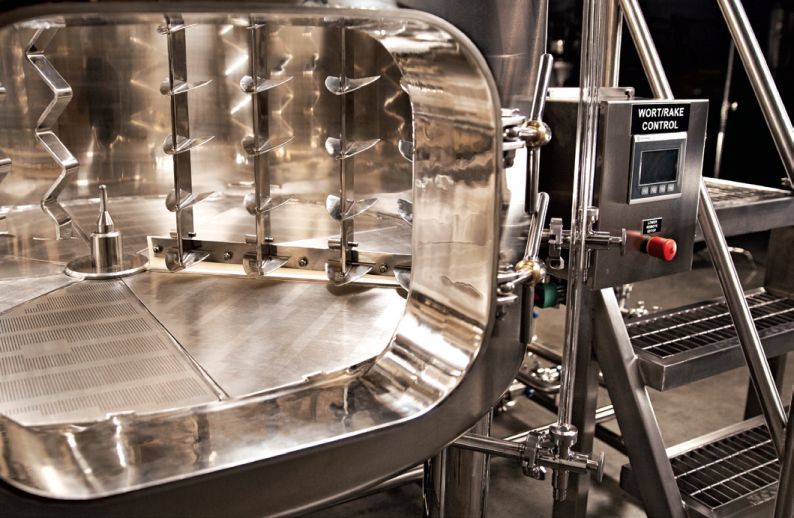 Visual Vacuum Indicator
We have further enhanced our system by incorporating a visual vacuum indicator. This visual indicator serves a crucial purpose in safeguarding the integrity of the screens located at the bottom of the mash tun. Excessive vacuum forces, which can occur during a stuck mash, have the potential to damage or bend these screens. With the visual vacuum indicator, brewers can proactively monitor and prevent such occurrences, ensuring the screens remain protected and intact.
By equipping brewers with this essential visual feedback, our system promotes a smooth brewing process while minimizing the risk of equipment damage. It empowers brewers to take preemptive measures, allowing for the successful completion of mashes without compromising the system's performance or longevity.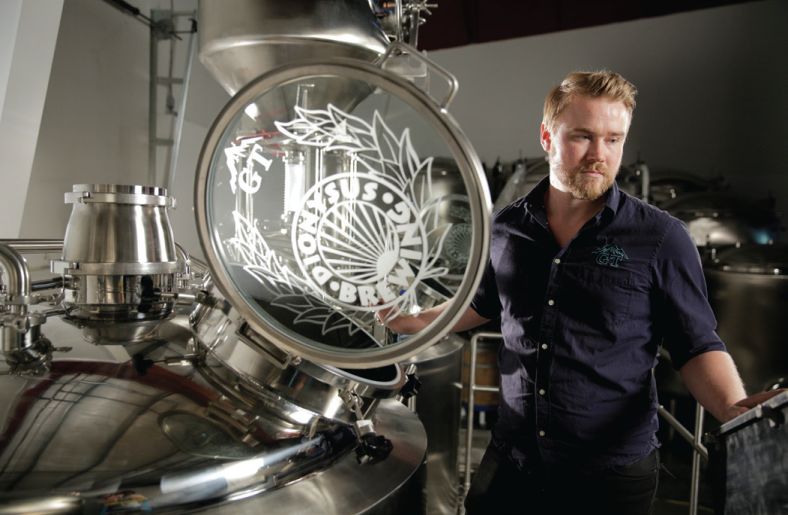 Commercial Kettle
Our commercial series kettles are equipped with an array of standout features, including enhanced insulation, an integrated whirlpool, a process view drain, dual CIP capability, and more. These features are designed to optimize performance and elevate the brewing experience.
With the addition of extra insulation, our commercial series kettles offer improved heat retention, resulting in enhanced energy efficiency and precise temperature control throughout the brewing process. The integrated whirlpool feature promotes effective trub separation, facilitating cleaner and clearer wort transfer.
The process view drain provides a convenient and visual means to monitor the drainage process, allowing brewers to easily observe the flow and ensure efficient drainage without any guesswork. Additionally, the dual CIP capability streamlines the cleaning process, enabling thorough and hassle-free sanitation of the kettle.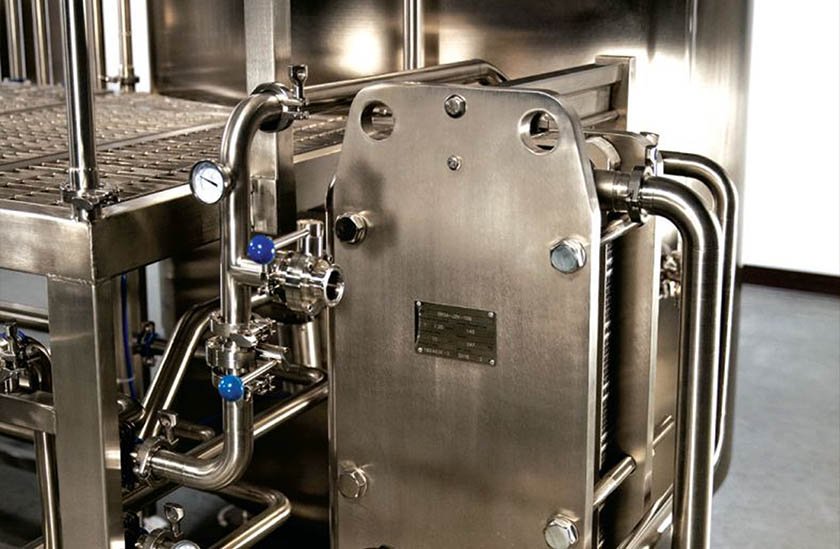 Knockout
Following the kettle, our brewing system features a highly efficient dual-stage plate and frame heat exchanger, accompanied by an inline oxygenation system. Together, these components play a vital role in completing the hot side processing and facilitating the seamless transfer of wort to the fermenter.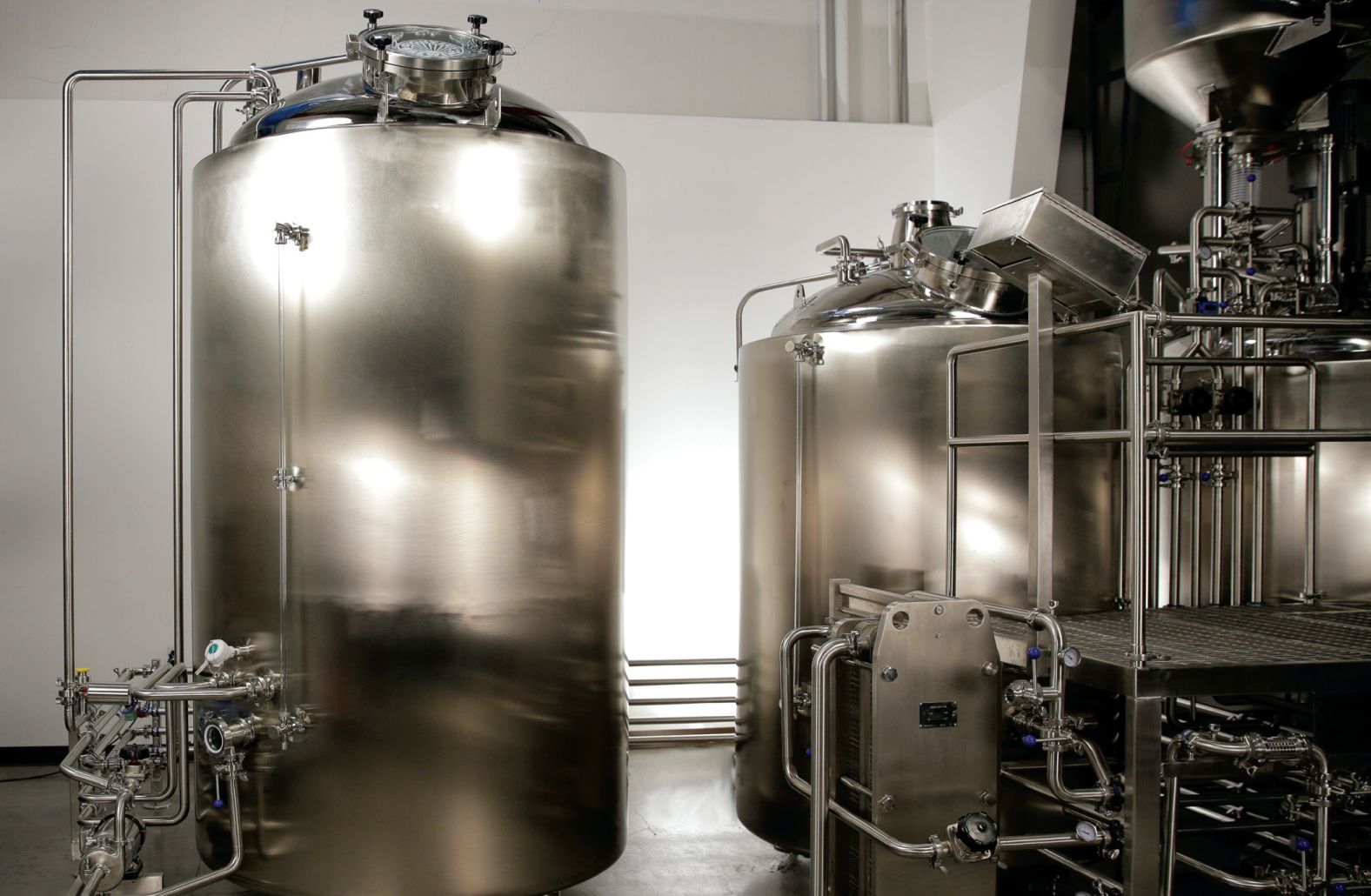 Hot Liquor Tank
We specialize in constructing Hot Liquor Tanks (HLT) tailored to meet your specific brewing requirements. Our range of commercial series HLTs are available in many sizes.
Our commercial series HLTs are equipped with an integrated pump that performs two essential functions. Firstly, it controls the recirculation process, ensuring even heating throughout the tank. This feature promotes consistent temperature distribution and helps maintain optimal conditions for your brewing process. Secondly, the pump facilitates the precise distribution of hot water to the brewhouse, allowing for efficient and controlled water flow during the brewing operation.
The integration of our HLTs with our turn-key systems ensures compatibility and smooth functionality, providing brewers with a hassle-free setup.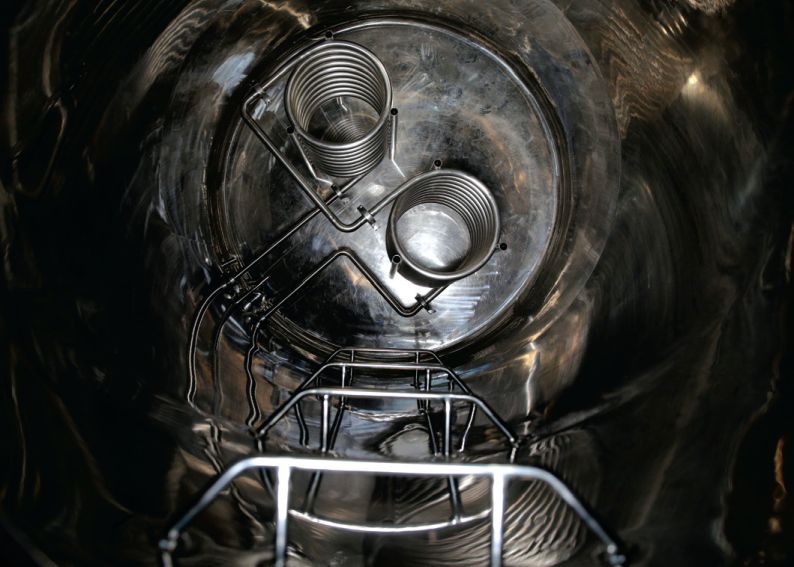 Special Dual HERMS Coil
Our commercial HLTs feature our innovative dual HERMS coil, specifically designed to optimize the cleaning process. What sets our dual HERMS coil apart is its unique fully draining capability, ensuring no residual liquid is left inside after use. This thoughtful design element significantly simplifies the cleaning procedure.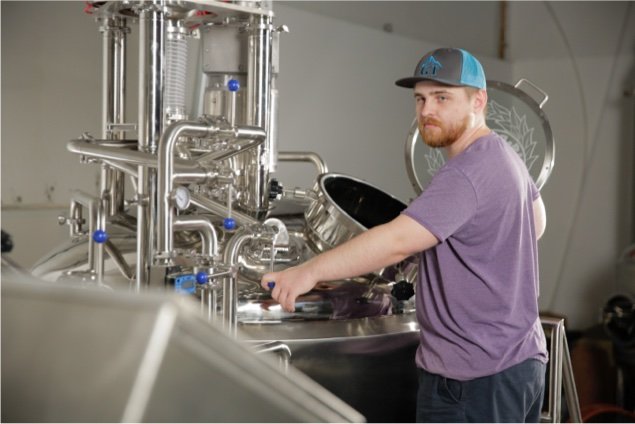 Start your brewing journey with us today!
Our team is eager to collaborate with you and ensure that the system you invest in aligns perfectly with your vision and requirements. From concept to completion, we uphold the highest standards of craftsmanship and attention to detail, ensuring that your system is not only functional but also tailored to your specific needs.
True to our core values, our tanks & systems are built with integrity, dedication, and innovation.
With our collaborative approach, we strive to exceed your expectations and deliver a brewing system that inspires creativity and enables the production of exceptional brews. So, contact us today, and let us guide you through the process of creating a brewing system that reflects your passion and sets the stage for your brewing success.
If you're ready to get brewing with a Glacier Tanks Tank or Brewing System, call us today!
Looking for assistance in funding your brewhouse?
Experience the thrill of brewing your own craft beer. More than just combining water, grains, hops, and yeast, it's about blending passion with ambition to create something truly unique. But before that first perfect pint flows from the tap, secure the financing to fuel your dream. Setting up a brewery takes significant capital—from top-notch equipment to quality ingredients, licenses, and real estate. With the right financial backing, you'll transform that vacant space into a thriving hub where the hops and barley dance in harmony in every pint.
Click Below to see our curated list which includes financing options with competitive rates, flexible terms, and exceptional customer support to turn your brewing ambitions into reality.

Ryan Mabbutt
Apr 1, 2023 on Google Customer Reviews
The quality of products and speed of shipping was excellent. Glacier Tanks are a great company to work with.

Duane Teach
Oct 12, 2020 on Google Customer Reviews
Great range of products and support of me, the little guy. Highly recommended, and I will look to them for future needs.