Double Hinge Tri Clamps
Tri Clamp Fittings | Stainless Steel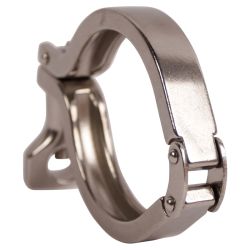 Double Hinge Clamps
Glacier Tanks double hinge pressure clamps are available in sizes ranging from 1 1/2 inch up to 4 inches. Larger sizes are available by special order. Double hinge pressure clamps are an upgraded solution for most intended Tri Clamp fitting connections. They distribute pressure more evenly and can handle a higher pressure load than single hinge clamps. The wing nut style tightening screw allows for quick and easy assembly without the need for extensive tools.
Glacier Tanks recommends that all standard double hinge pressure clamps be tightened by hand, with an additional maximum of two turns using a screw driver to apply proper pressure and ensure a solid, leak free seal. However, over tightening a pressure clamp may cause the gasket to fail from over-compression and place too much tension on the clamp threads.
Learn more about clamp sizing & gaskets in our Tri Clamp Sizing Guide.
Maximum Clamp Pressure Ratings (PSI)
 
Single Hinge (13MHM)
Double Hinge (13MHHM-DP)
High Pressure (13MHP)
Size
70F
250F
70F
250F
70F
250F
Max Torque
3/4 in.
1500
1200
1500
1200
1500
1200
130 In LBf
1.5 in.
500
250
500
250
1500
1200
130 In LBf
2 in.
450
250
450
250
1000
800
130 In LBf
2.5 in.
400
200
400
200
1000
800
130 In LBf
3 in.
350
150
350
150
1000
800
130 In LBf
4 in.
200
125
200
125
800
600
200 In LBf
6 in.
150
75
 
300
200
200 In LBf
8 in.
100
50
 
250
150
200 In LBf
10 in.
40
30
 
200
125
200 In LBf
12 in.
30
25
 
150
100
200 In LBf
Return Policy
Glacier Tanks will accept returns of website standard stocking items, but only if:
The item is new, unused, and in resalable condition;
You notify Glacier Tanks and request a return authorization within 30 days of your receipt of the item;
You return the item to Glacier Tanks, postage/shipping prepaid within 5 days of Glacier Tanks' return authorization (RMA);
Once your items have been received by Glacier Tanks and verified to be unused, we will refund your purchase price, less shipping costs. Returns will incur a 15% restocking fee. Return shipping costs are your responsibility and shall not be paid by Glacier Tanks.
The following items are non-returnable:
Special or Discounted items - labeled by button color:

Discontinued

Damaged

Non-conforming

Refurbished

Special Order

Drop Ship

Build-to-Order

Custom order
All Gaskets & Seals
Please be sure you understand and agree to any drawings supplied to you prior to purchase of custom or special order items. Payment of deposits for custom or special order items indicates your approval and acceptance of such custom or special order items.