NPT High Pressure & Vacuum Safety Relief Valves (PRVs)
Sanitary Stainless Steel Fittings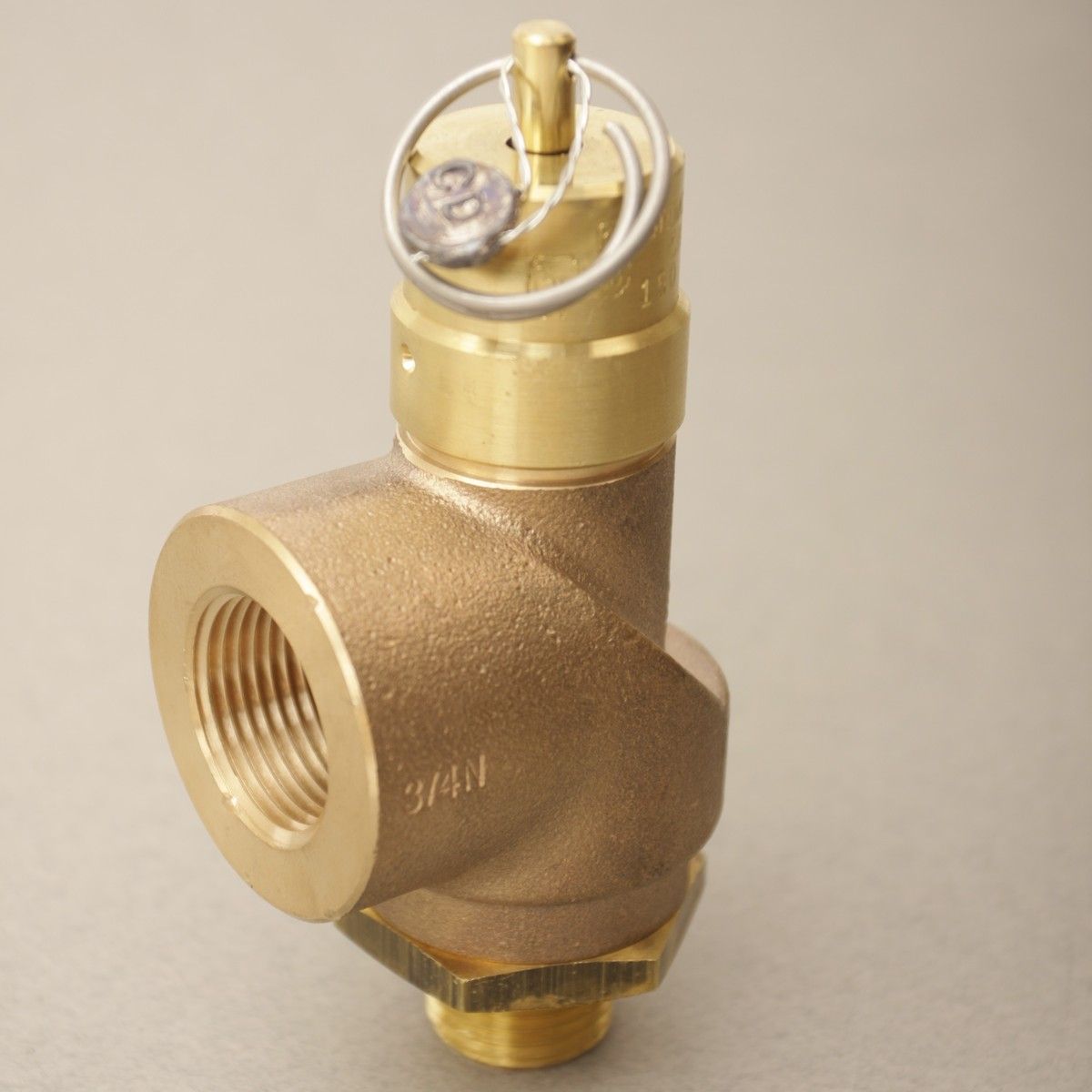 High-Pressure Relief Valves
Glacier Tanks' line of high-pressure relief safety valves are brass constructed, have a threaded male NPT inlet connection with a stainless steel pull ring for manual pressure relief. The brass body, brass valve seat, and the zinc-plated steel spring resist corrosion and can be used in operating temperatures up to 250°F. The safety valve is rated by the American Society of Mechanical Engineers (ASME) with a UV mark for pressure vessel safety. The preset pressure rating is accurate to within 3% and the silicone O-ring provide a leak-proof seal.
Pressure Relief Valve Application
Relief valves release excess pressure or vacuum from a system. The valve opening allows fluids or gases to escape decreasing pressure, and closing once pressure reaches a level below the preset limit. This works inversely for vacuums where gas is allowed to pass into the system until the low-pressure limit is reached and the valve closes. A relief valve may be adjustable allowing modification to the pressure ratings where the valve opens, making it versatile for multiple applications. Relief valves are rated accordingly by the volume of liquid or gas they can pass and whether the construction material is suitable for a fluid or gas, which may either be corrosive in nature or operate at an extreme temperature. Relief valves are often found in a variety of applications including air compressors, petrochemical and chemical manufacturing, natural gas processing, and even power generation.
National Pipe Taper (NPT) are a standardized fitting that is commonly used for joining pipe. Due to the tapered threads (wider diameter at the base of the threads, similar to a trapezoid) the male fitting will tighten the further it is threaded into the female. NPT follows the technical standards provided by the American National Standard Pipe Thread standards, often called national pipe thread, which is often where the confusions with NPT arises, as NPT is specifically an acronym that refers to tapered pipe.
California Proposition 65 Warning:
This product can expose you to chemicals, including lead, which are known to the State of California to cause cancer and birth defects (or other reproductive harm). For more information go to www.p65Warnings.ca.gov.
Extraction Disclaimer:
These product(s) are intended only for use in accordance with all federal, state, and local laws, regulations, and ordinances, and Glacier Tanksā€™ specifications. Depending on the type of oil you are extracting, these product(s) may not be legal to operate in some areas.
Glacier Tanks strongly discourages any unlawful use of these product(s) and is not responsible for any damage or injury caused by their misuse or unlawful use.
These product(s) are designed and intended for operation in well-ventilated outdoor areas.
Any person or entity that uses these product(s) or information provided by Glacier Tanks does so subject to Glacier Tanksā€™ Terms and Conditions, and accepts all liability concerning the use of the product(s) or information listed above.
DANGER! Never extract with butane or propane indoors. Doing so may cause serious injury or death.
Return Policy
Glacier Tanks will accept returns of website standard stocking items, but only if:
The item is new, unused, and in resalable condition;
You notify Glacier Tanks and request a return authorization within 30 days of your receipt of the item;
You return the item to Glacier Tanks, postage/shipping prepaid within 5 days of Glacier Tanks' return authorization (RMA);
Once your items have been received by Glacier Tanks and verified to be unused, we will refund your purchase price, less shipping costs. Returns will incur a 15% restocking fee. Return shipping costs are your responsibility and shall not be paid by Glacier Tanks.
The following items are non-returnable:
Special or Discounted items - labeled by button color:

Discontinued

Damaged

Non-conforming

Refurbished

Special Order

Drop Ship

Build-to-Order

Custom order
All Gaskets & Seals
Please be sure you understand and agree to any drawings supplied to you prior to purchase of custom or special order items. Payment of deposits for custom or special order items indicates your approval and acceptance of such custom or special order items.