Tri Clamp Dimensions & Sizing Guide
A brief guide to understanding Tri Clamp sizing & style, and selecting the correct gasket
The Tri Clamp fittings can be confusing for those not familiar with them, but if you remember these few simple guidelines working with and sizing them will be a much easier task:
Tri Clamp is the common name for sanitary fittings with a clamp end ferrule
Tri Clamp size is determined by the OD (outside diameter) of the tubing, not the diameter of the ferrule flange
For smaller OD tubing (1/2" & 3/4") and (1" & 1.5"), the Tri Clamp ferrules sizes are combined for each pair
Compatible sizes can be joined directly, but different OD tubes will affect flow; also always use the larger gasket size
Please double check everything to avoid errors in ordering and assembly
---
A Brief History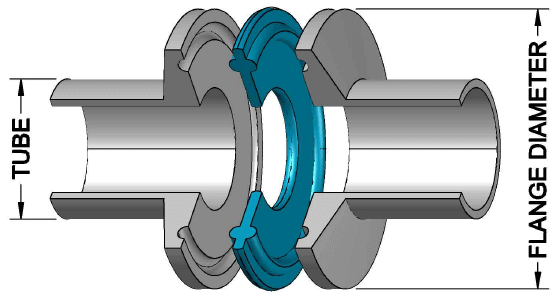 Sanitary clamp end connections were commonly known as "Tri-Clover," a brand and registered trademark of Alfa-Laval, the major manufacturer of these connection types for over 50 years. Later, Ladish Co. took over the brand "Tri-Clover" and rebranded them as "Tri Clamp." Tri Clamp specifically, was originally used to describe the Tri-Clover 3-segment clamps, but now the name "Tri Clamp" is universally used as a way of referring to these types of sanitary clamps across the industry.
---
Determining the Correct Tri Clamp Size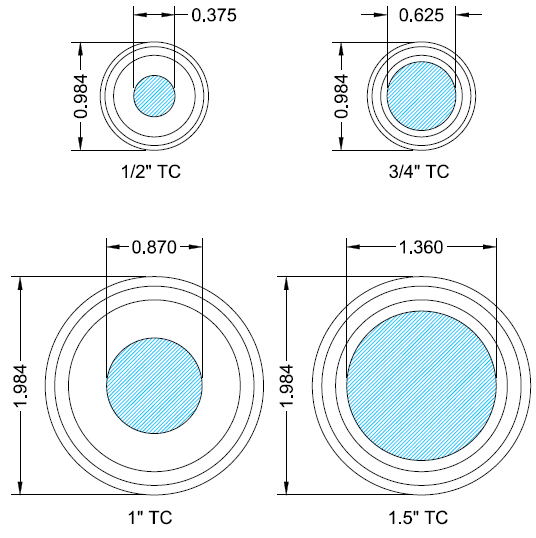 The most important factor to remember is that Tri Clamp size is determined by the outside diameter (OD) of the tubing, and NOT the outside diameter of the flange. This distinction is important because the Tri Clamp flange, which follows a standard, is approximately 1/2" larger than the tubing and is the most common point of confusion. Thus a 1.5" Tri Clamp fitting, will have a flange that is 1.984" (almost 2" on a tape measure), and if we go by the flange measurement and order a 2" Tri clamp to match, we find our newly arrived fitting is about 1/2" too large.
Another significant point of confusion comes from the smaller OD tubing. The 1/2" and 3/4" tubes both share the 3/4" Tri Clamp ferrule (0.984" flange), and the same is true for the 1" and 1.5" tubes which share the 1.5" Tri Clamp ferrule (1.984" flange) - two clamp sizes for 4 different fittings. As a result, two pairs of different sized tubing are compatible and can be connected together, but we encourage you to read the next section to get a more thorough understanding of how to do this properly and the effect it will have.
---
Understanding the Joining and Gasket Selection for Compatible Sizes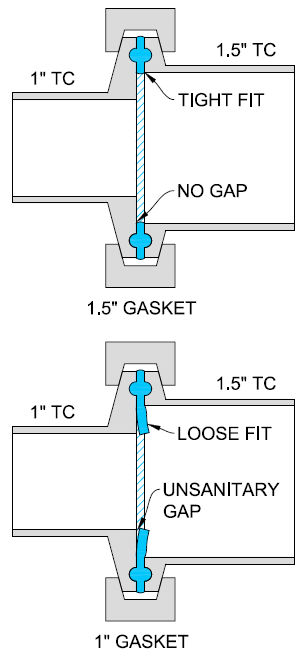 Because you can directly join each pair of smaller compatible sizes, it is important to be aware of the effect this has on the material flowing through the tubing. The different sized tubing will behave just like an end cap reducer that has an abrupt size change, but without the explicit need for a reducer. On larger tubing (2"+) you would need a reducer specifically to transition sizes. This can be accomplished with either an end cap reducer, or a concentric/eccentric reducer both of which are tapered and allow a more gradual transition between sizes. The smaller compatible sizes also have concentric/eccentric reducers that avoid the abrupt size change.
The second important consideration is the gasket. On larger tubing (2"+) using the appropriately sized gaskets is pretty straightforward, and when clamped these gaskets have minimal intrusion into the flow of material. However, that is not as easily the case when joining a larger tube OD directly to a smaller tube OD of a compatible clamp size. The correct gasket will be sized to the larger of the two tubes. For example: When joining a 1.5" tube to a 1" tube, if a 1" gasket is used, you run risk of unsanitary conditions around the unclamped section of a 1" gasket loosely held against the face of the 1.5" tube flange. The correct gasket choice is a 1.5" gasket. The same is true when combining 1/2" and 3/4" tubing, which should be joined by a 3/4" gasket. The only time a 1/2" or a 1" gasket are used is when you are combining two 1/2" or two 1" OD tubes, respectively.
---
Clamp Style Selection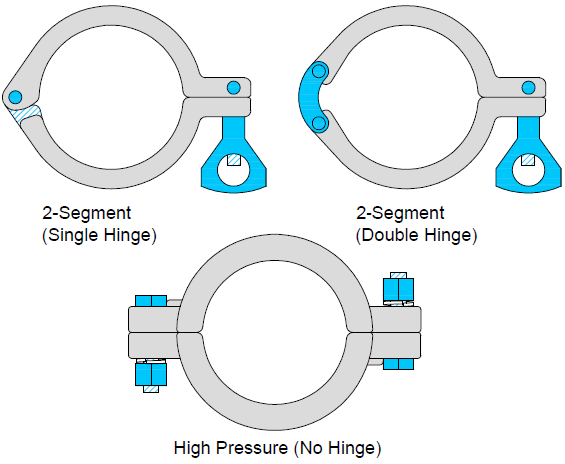 Our Tri Clamp fitting clamps come in three main types: a 2-segment (single hinge), a 2-segment (double hinge), and a high-pressure, bolted version without a hinge.
The single hinge design is considered cost-effective and functional for most applications. The double hinge design is more flexible, so they are easier to install in tight spaces. Both of these designs have similar pressure ratings, however, we carry a limited selection of the double hinge variant due to customer needs.
The high-pressure bolted clamp has two sections without a hinge. They are instead bolted together using a lock washer and brass nut; brass is chosen because it is naturally resistant to galling and seizing on stainless steel bolts. These are more suited to a permanent or semi-permanent application where frequent service is not needed or high-pressure safety supersedes ease of service.
Maximum Clamp Pressure Ratings (PSI)
Single Hinge (13MHM)
Double Hinge (13MHHM-DP)
High Pressure (13MHP)
Size
70F
250F
70F
250F
70F
250F
Max Torque
3/4 in.
1500
1200
1500
1200
1500
1200
130 In LBf
1.5 in.
500
250
500
250
1500
1200
130 In LBf
2 in.
450
250
450
250
1000
800
130 In LBf
2.5 in.
400
200
400
200
1000
800
130 In LBf
3 in.
350
150
350
150
1000
800
130 In LBf
4 in.
200
125
200
125
800
600
200 In LBf
6 in.
150
75
300
200
200 In LBf
8 in.
100
50
250
150
200 In LBf
10 in.
40
30
200
125
200 In LBf
12 in.
30
25
150
100
200 In LBf