Jacketed Fermenters | Glycol-Jacketed Fermentation Tanks
Stainless Steel Fermentation Tanks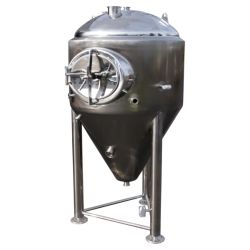 Jacketed Conical Fermenters
A conical fermenter allows for the fermentation and the aging/storing of the brewing process to occur in the same vessel. The cone bottom collects the sediment which is then easily removed by slowly opening a bottom valve until the liquid runs clear, leaving the beer to age. For this reason they are often referred to as "Uni-Tanks" as opposed to their flat-bottom counterparts that require transferring beer to a secondary conditioning tank to separate the sediment.
Modern commercial conical fermenters have the advantage of being made from stainless steel which can be reused indefinitely, is impregnable to odors and discoloration, and can be sanitized easily. Most jacketed fermenters sit atop legs and thus allow siphoning to occur through gravity. Additionally, yeast can be drawn off at any point during fermenting, to be washed and reused again. These features yield considerable cost and time savings for commercial breweries, as well as faster turn-over rates for batches. Glycol-jacketed fermenters have the added benefit of an efficient cooling system built right into the tank.
Please see Specifications for additional upgrade options and information.
We also carry non-jacketed conical fermenters.
Return Policy
Glacier Tanks will accept returns of website standard stocking items, but only if:
The item is new, unused, and in resalable condition;
You notify Glacier Tanks and request a return authorization within 30 days of your receipt of the item;
You return the item to Glacier Tanks, postage/shipping prepaid within 5 days of Glacier Tanks' return authorization (RMA);
Once your items have been received by Glacier Tanks and verified to be unused, we will refund your purchase price, less shipping costs. Returns will incur a 15% restocking fee. Return shipping costs are your responsibility and shall not be paid by Glacier Tanks.
The following items are non-returnable:
Special or Discounted items - labeled by button color:

Discontinued

Damaged

Non-conforming

Refurbished

Special Order

Drop Ship

Build-to-Order

Custom order
All Gaskets & Seals
Please be sure you understand and agree to any drawings supplied to you prior to purchase of custom or special order items. Payment of deposits for custom or special order items indicates your approval and acceptance of such custom or special order items.